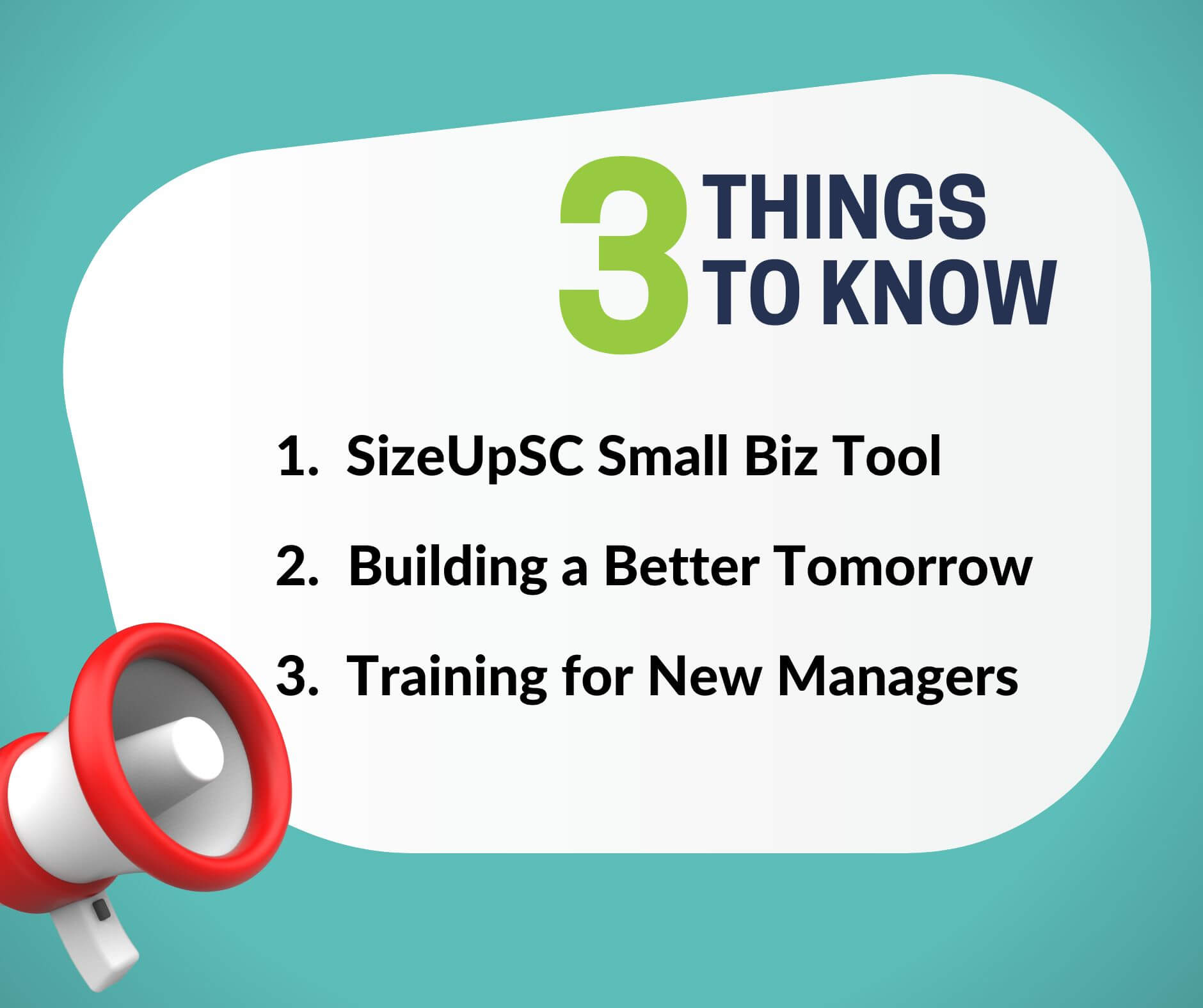 Here are 3 great things to know on May 8, 2023
SizeUpSC Small Business Tool
Need the right information to help your small business grow? The S.C. Department of Commerce offers SizeUpSC to provide analytics including Business Intelligence, Competitive Reviews, and Marketing Research.
Simply select your industry from the list and input your location.  SizeUpSC then generates 3 reports that are customizable depending on your needs. You can also compare your business to your competition and figure out how to adjust operations, advertising, customer relations, etc. to adjust for the current business climate.
Building a Better Tomorrow Event
This interactive community forum is set for June 15, 8:00am-10:00am, and will be unlike any other event you've seen in our region. We want you, our business community, to help identify the challenges and opportunities ahead. Your input will help to move our county and municipalities forward, together.
Our agenda will include conversation sessions and remarks from our guest speakers.
Confirmed speakers include:
Council Chair Christi Cox - York County Council
Mayor Guynn Savage - Town of Fort Mill
Mayor John Gettys - City of Rock Hill
Mayor Pro Tem Tom Hyslip - City of Tega Cay
Mayor Mike Fuesser - City of York
Find a list of our program sponsors and register today at this link.
Training for New Managers and Emerging Company Leaders
Designed for new managers or for those striving to step into a professional leadership role, our latest Leadership Development program will launch this summer. A companion to our traditional Leadership York County program, this new offering will focus on the strengths and potential of the individual, highlighting the valuable synergy of Management and Leadership. With a curriculum presented by expert instructors and a built-in peer coaching element, participants will practice and apply skills such as Conflict Resolution, Leading Work Teams, and Communicating for Results.
Applicants must be nominated by a supervisor.  Details will be released later this month!