Investing in the Regional Chamber is an investment in your business and in our community. Together we can strengthen our economy, create jobs and train qualified workers, and enhance York County's quality of life. Click around the benefits below to learn more about our general benefits, and visit our Membership page to find specifics about our available investment levels.
We offer over 40 annual events to inform, connect, and promote our members. Follow us on social media to keep up with the latest opportunities or check our online calendar. If your company hasn't yet joined the Chamber, check in with our staff to see about non-member pricing.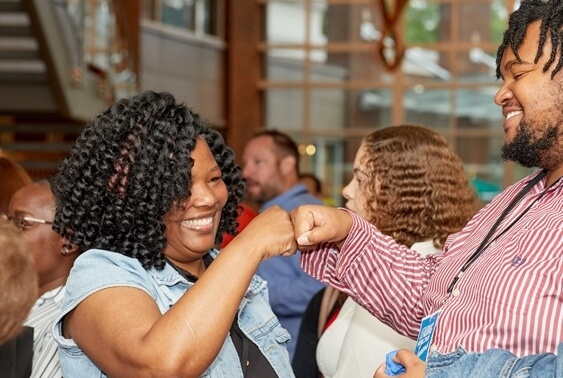 Gain access to the county's largest pool of business contacts (over 900 members/approx. 46k employees) who also want to grow their business through personal connections and quality professional relationships.
By simply joining the Chamber, your SEO numbers will improve through our online member directory.  Want a bigger boost? Whether you sponsor an event, purchase an ad, volunteer with us, or tag us in your next post, your relationship with the Chamber makes your company more visible through every online search engine.
The Chamber receives daily requests for referrals to various types of businesses and service providers, and we respond to those requests with lists of our member companies. Whether we're communicating with area visitors, newcomers, or other businesses, we're getting the word out on your behalf.
For new and expanding member businesses, we host over 100 ribbon cutting and ground breaking events each year. If you're opening a new location, launching a new product line, or celebrating a milestone anniversary, give us a call or visit this link for booking details and guidelines.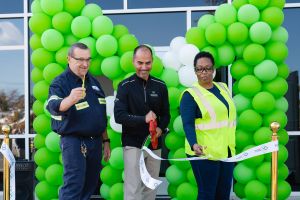 Invaluable resources and training opportunities are available to small businesses through programming, networking, and partnerships in our region.  Check out this link for a list of current programs designed with entrepreneurs in mind.
Through our Chamber Advantage Program (CAP) enrolled members enjoy reduced pricing on office supplies and communications services, and have access to an expanded range of health insurance options. 
Additionally our retailers and service providers help each other out by offering exclusive specials and coupons through our member-to-member discount program.
Running a business isn't easy and there are times when local ordinances, pending legislation, and outdated laws prevent you from growing your company. The Chamber is here to advocate for you - helping to understand challenges and working to get answers and solutions.
Additionally, we host multiple events and programs each year that are attended by elected officials and community leaders as either presenters, invited guests, or as business representatives like you. Join in to get to know the people that make things happen in your area of York County.
The One Button Studio (OBS) is an easy-to-use digital video production studio that requires no prior video production experience.  OBS is located at Chamber office and is available for multiple types of projects including:
creating videos for recruitment, training, or professional development seminars;
practicing for professional presentations, pitches to investors, etc;
recording interviews or podcasts;
creating ePortfolio materials or video essays; and
filming for digital advertisements and social media promotions.​
Whether you're looking for a service provider referral, needing info on community events, or hoping to connect area leaders, we can help you out! We have contacts for whatever your business needs. Just give us a call!
Chamber Members with 10 or fewer employees can enjoy free membership with the SC Chamber Alliance.
South Carolina's chambers working together for the state's business community is key. Together, they can give a voice to small businesses and have a real impact for the state's business community. For this reason, the South Carolina Chamber has formed the Chamber Alliance. This partnership aims to bring chambers together and empower small businesses to solve the issues they face. 
ALLIANCE MEMBERS BENEFITS
Membership in the SC Chamber of Commerce at no additional cost (contingent upon remaining in good standing with their local chamber and having ten or fewer full-time employees.)
Eligibility to participate on the SC Chamber of Commerce Small Business Council and affect policy change.
SC Chamber of Commerce weekly e-newsletter, Chamber Buzz.
Digital copies of all SC Chamber of Commerce publications; ASCEND Magazine, Workforce & Jobs Report and Legislative Scorecard.
Discounted member pricing for SC Chamber of Commerce events and E-Certify program.
Access to SC Chamber of Commerce Member Training programs.
A voice at the statehouse through the SC Chamber of Commerce lobbying team.
Up-to-date information on legislative activities during session.
Visit SCChamber.net for more information.
Additional benefits offered through membership for a nominal fee:
Sponsorship  - give your business additional exposure through event sponsorships! We have plenty of options for whatever your business goals might be. Contact us today for a full list of available opportunities.
Advertising  - Increase your online visibility with advertising opportunities on our website, weekly e-newsletter, and social media platforms. Want to make a more personal impact - we even have opportunities for member advertising in our lobby where countless numbers of business representatives and area visitors gather each week. Check out this standard list of advertising options or email us today.