Non-profit organizations provide vital services in the communities they serve in areas of education, health, social and community services. This program is designed for professionals who perform the various functions of administration, program services, and fundraising for the organization.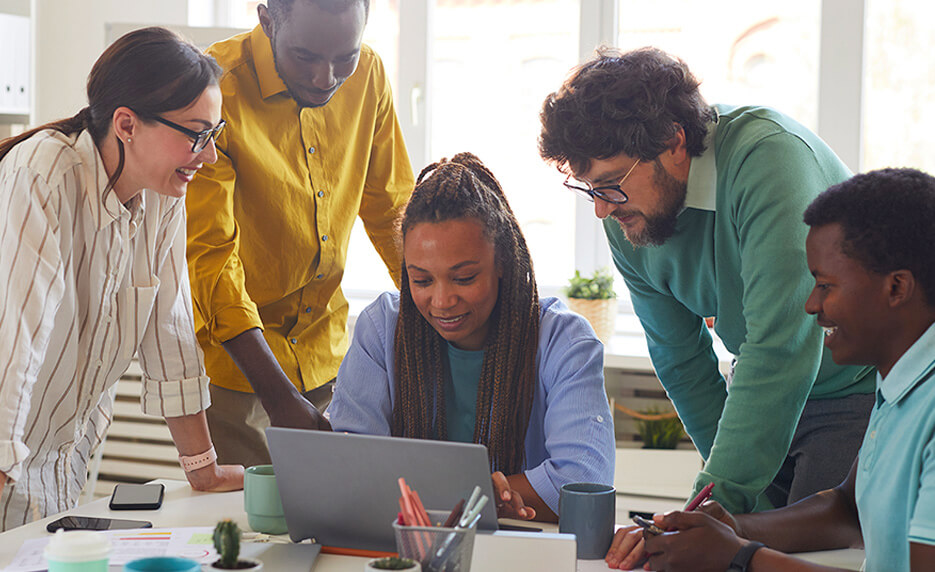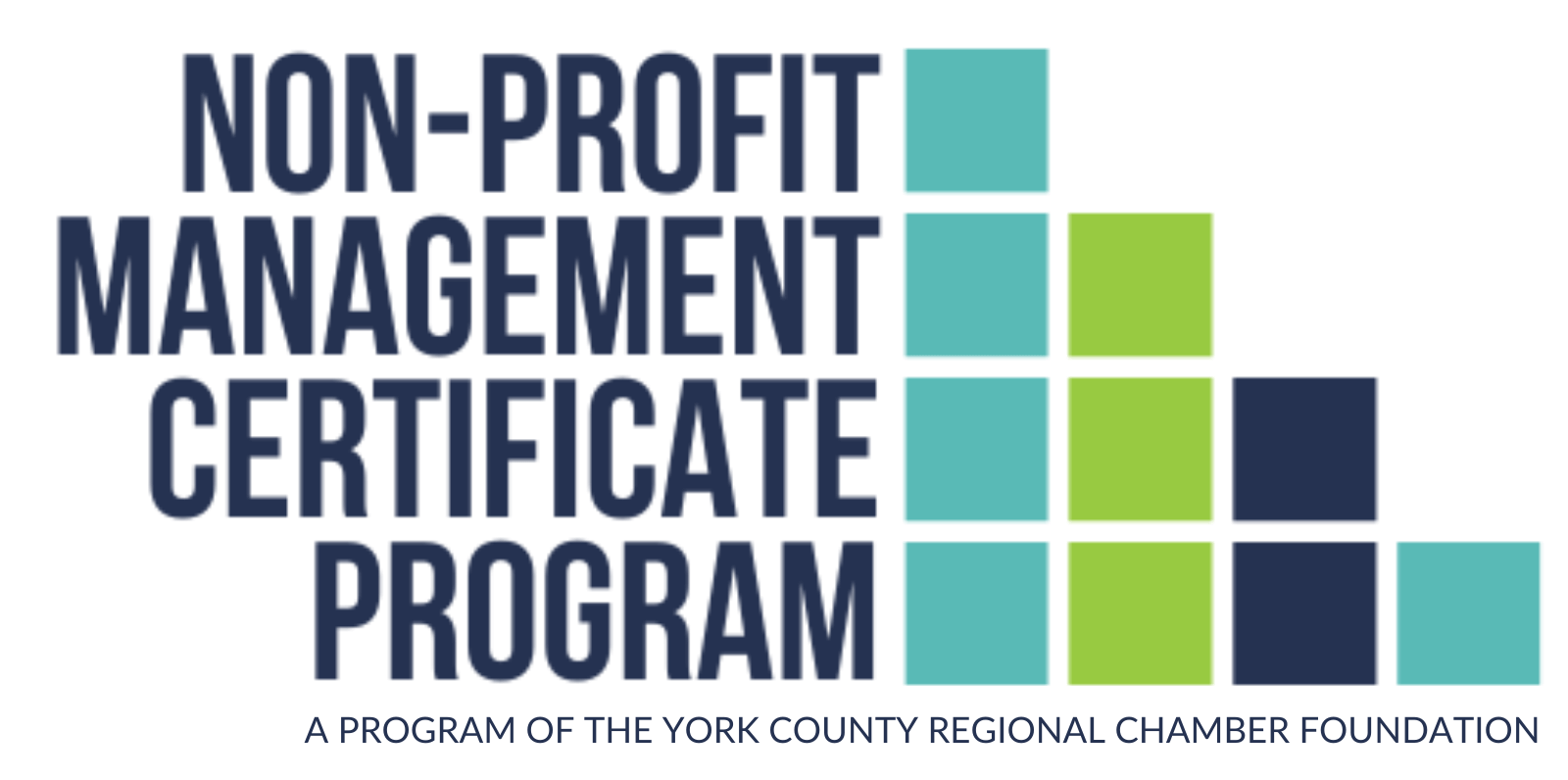 Overview
Designed for professionals working in non-profit organizations, this 56-hour fundamentals course covers topics that build skills in the management of people, systems, and finances. Upon completion of the program, participants will receive a certificate of completion from York County Regional Chamber. Space in this program is limited to 30 registrants.
Participants will learn through case studies, lectures, readings, and discussions. The certificate program provides a solid foundation of training focused on the many challenges that non-profit professionals face. Each participant will develop a personal development plan and benchmark best practices against peer institutions.
The certificate program was developed to accomplish the following:
develop a broader knowledge of the legal environment of non-profits
build upon leadership skills for human resource management
learn best practices through benchmarking peer agencies
build knowledge and skills for the not-for-profit manager
create a mechanism for setting goals
This program does not lead to credit for any academic course or degree program.
Course Content
This program covers key functional areas of non-profit management. Click on course titles below for content of each session:
Different types of boards, structure, purpose, and roles
Board and committee recruitment
Types of committees and roles
Board and staff relationships
Board orientation, support, recognition, and evaluation
The planning process: adhering to your mission
Identifying what needs should be addressed, when, how, and by whom
Formulating goals and objectives and identifying evaluative techniques
Program implementation and oversight
Program evaluation (basic concepts, including data collection methods and fundamental designs)
Measuring and reporting outcomes
Staff management strategies to recruit, select, train, manage, motivate, evaluate, recognize and terminate
Compliance with federal laws
Personnel recordkeeping
Volunteer management strategies to recruit, select, train, manage, motivate, evaluate, recognize and terminate
Basic understanding of leadership in an ever changing environment
Leading vision and achievement of goals
The leader's role in championing ethics and diversity
Developing human capital and the environment
Building critical relationships
Providing leadership to a board of directors
Basic accounting terminology and concepts
Generating and using accounting information (budgets, balance sheets, income statements, etc.)
Grants/gift management
Cash flow analysis
Best practice procedures (handling cash, requisitioning, etc.)
Internal and external financial reporting and requirements
Overview of PR activities and relationships for NPOs
Identifying customers and stakeholders and obtaining feedback from them
Basic marketing (to potential clients, to potential donors, to community, etc.)
Community outreach and awareness
Acquiring and maintaining tax-exempt status (public charities versus private foundations)
Role of state law for nonprofits
Fundamentals of tax law (IRS filings, payroll, disclosure, record-keeping, and solicitation)
Fundamentals of employment law for NPOs
Overview of methods of generating revenues (from corporate grant-seeking and user fees to special events and planned giving)
Creating a development plan (diversifying funding base, using timelines, choosing activities, etc.)
Board and committee roles
How to implement and evaluate various methods of raising money (from prospect research and securing in-kind contributions to conducting special events and writing grants)
Cultivating donors and building relationships
Who Should Attend and How to Apply
This program will benefit a variety of professionals working with or for community organizations. These include:
Non-profit executive directors, presidents, and CEOs who desire skills building;
Program managers, department managers, and key leadership staff who are tasked with carrying out policy, managing finances, and acting on requests of board members and executives; and
Board members who will be making decisions and recommendations on behalf of the organization
Each cohort is limited to 30 participants. Interested individuals should submit an application to the program no later than August 1. All applicants will be notified of their status within one week of application.  Those accepted into the program will receive further instructions at that time.
Chamber membership is not required for participation.
Program Details and Fees
Meeting locations for each session will be determined and communicated to participants in advance. Classes meet in-person once per month, typically on a Tuesday, beginning at 8:30 am and ending by 3:30 pm.
Participants must complete 90% of the program hours and submit all assigned work including the Benchmarking Project to receive a certificate and digital badge.
Tuition is $600 and covers all course materials and instruction. Chamber-member organizations receive a $100 discount.
Class Schedule
All sessions are scheduled on the second Tuesday each month unless otherwise noted. Changes to the schedule may be made due to any unexpected challenges and, if needed, will be communicated to participants as soon as possible.
2023-2024 Sessions
Sept 12 – Orientation, Teambuilding and Communication
Oct 10 – Program Effectiveness
Nov 14 – Board Governance
Dec 12 – Human Resources Management
Jan 9 – Legal Basics and Operational Accountability
Feb 13 – Financial Management
March 12 – Marketing and Public Relations
April 9 – Sustainability and Development
May 14 – Leading the Organization & Graduation Ceremony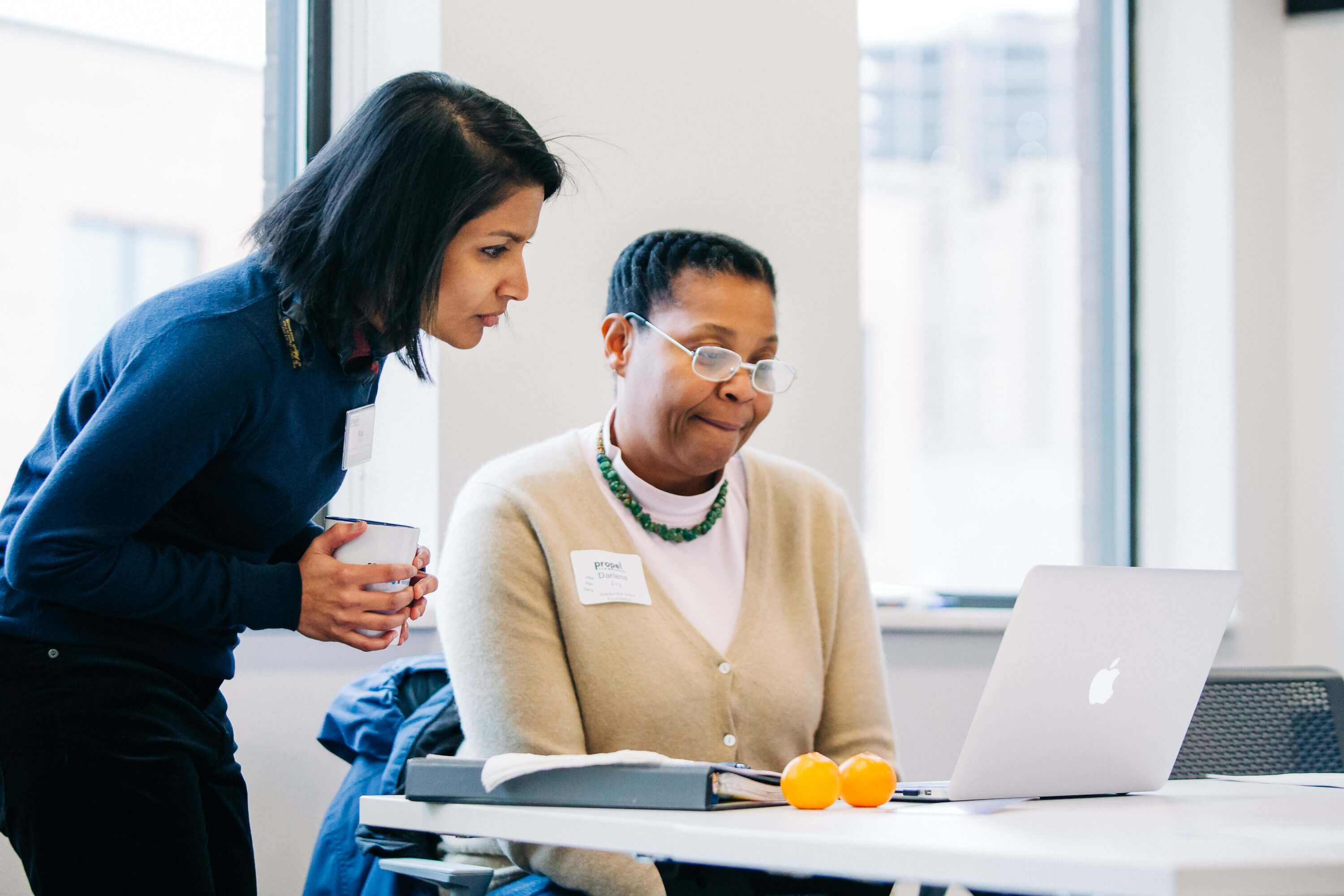 Contact Us
Individuals interested in being part of the next cohort or have questions, please contact us here.
Supporters
This professional certificate program is offered by the YCRC Foundation, a 501(c)3 organization.