3 Things to Know, 11.28.22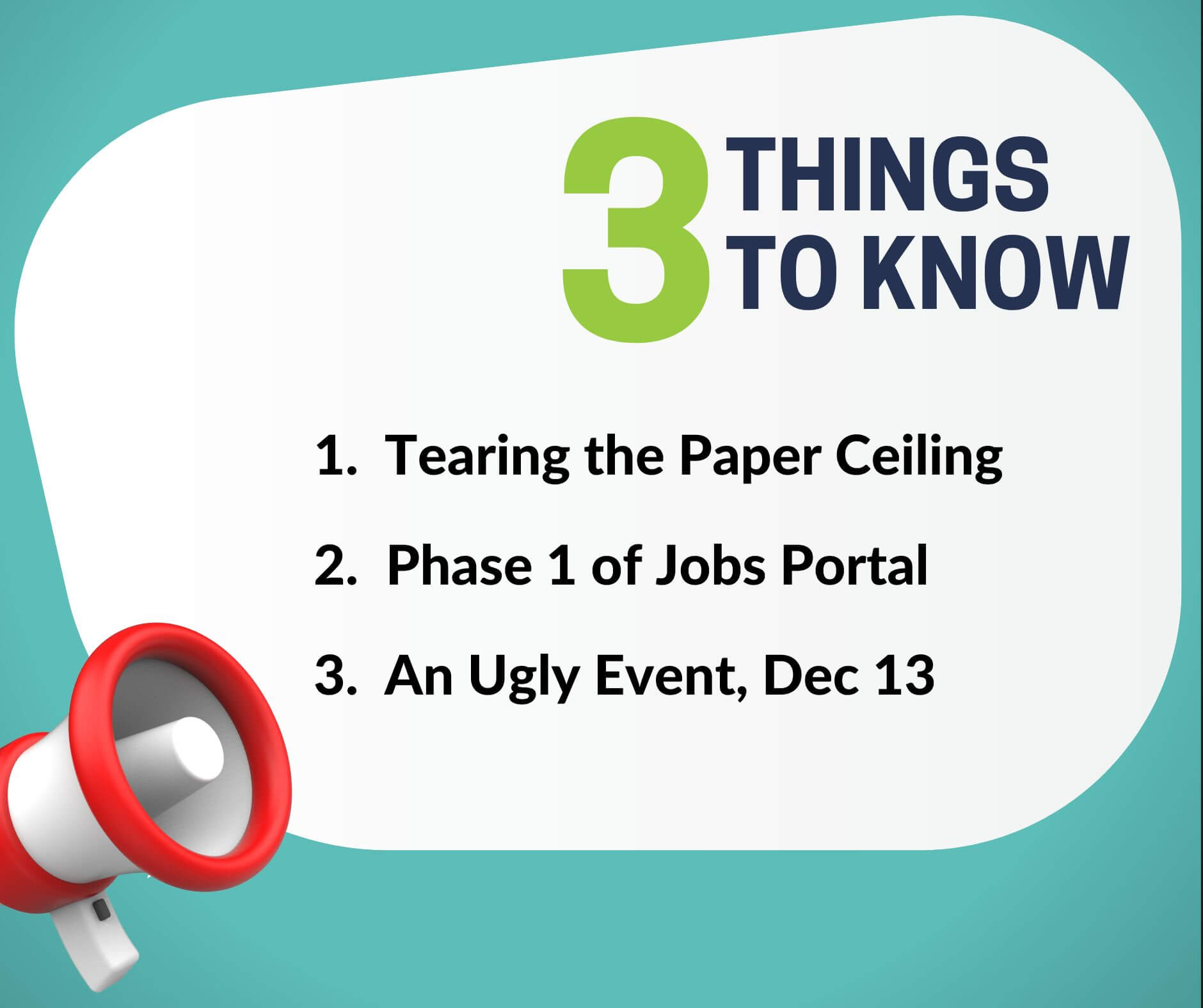 For the week of November 28, here are 3 great things to know!
Chamber Foundation Takes on The Paper Ceiling
There are millions of workers who are STARs (Skilled Through Alternative Routes) that are seeking higher-wage jobs, but have been blocked by the Paper Ceiling - an invisible barrier that comes at every turn for workers without a bachelor's degree.
This is an outdated practice that assumes individuals who have not achieved a minimum level of education cannot qualify as skilled workers. In fact, millions of workers have alternate (and potentially more relevant) training through community college courses, workforce training, bootcamp or certificate programs, military service, or on-the-job learning.
The Paper Ceiling only contributes to our current workforce challenges and so, developing opportunities for STARs is a great way to combat the labor shortage. Additionally, hiring STARs helps create a more diverse and inclusive workplace. The York County Regional Chamber of Commerce Foundation is working with our local and state workforce partners to create pathways for STARs and we'd love input from area employers. Look for more information and opportunities for involvement in the new year, or contact us here anytime.  Read more about The Paper Ceiling in this article posted by McKinsey & Company.
---

Members-Only Info Hub Offers Jobs Portal
Be Among the First to Post Job Openings and More! The Regional Chamber is a trusted source of information and a well-known partner in our community. Take advantage of our online visibility (and boost yours at the same time) by posting your job openings and news items on our website!  Log in at this link to get started.
Once logged in you'll find a chance to share:
News - your latest hiring updates, expansion announcements, employee promotions/recognitions, and more;
Job postings - submit your job openings and view others from various industries in the region;
Deals - offer coupons and special deals for the general public or for your fellow members (who may well be your best customers); and
Special events - if your event is free and open to the public, add it to our Community Calendar and then share the link with others
New to the Info Hub?
Simply go to our registration page at this link to create your login and start using these member benefits right away.
---

An Ugly Year-End Event - Dec 13, 4:30-6:30pm at Carowinds
Get your ugly sweaters and holiday apparel ready - this year's Drop-In will be like no other! Gather your co-workers and meet us at Carowind's Harmony Hall to "wrap" up the chamber year and celebrate with lively music and holiday cheer.
This is a themed event and we want you to dress to impress!  We're talking jingle bells, tinsel, and twinkle lights (and we wouldn't be sad to see a reindeer costume or two or eight).
Prizes will be given for:
Ugliest Sweater
Most Festive Attire (group award)
Most Spirited Theme (group award)
and more!
Come on out to catch up with old friends, make some new connections, and share a few laughs at this annual year-end celebration for all members of the York County Regional Chamber. Tree lighting at 6pm! RSVP appreciated at this link.